With Mother's Day approaching, you may be wondering what type of crochet gift would make the perfect gift for any mom who loves to crochet and enhance her crafting experience.
Fortunately, there are many fantastic gift options available that are perfect for crocheters of all skill levels. Be it for the holiday season, anniversaries, birthdays, or just because you enjoy having them in your life, it is always the perfect time to give your favorite crochet lover a special gift to show your appreciation for their long-time hobby. 
With so many crochet enthusiasts out there, it can be difficult to find unique gifts that they will love. But in this list that I've compiled from the best crochet gift ideas to the most unique treasure is sure to please any avid crocheter.
Let's take a closer look at some of the best and most thoughtful gift ideas from zero cost Free Gift Ideas to the more extravagant choices for any crocheters on the market today.
-$ Free Gift Ideas
Free Crochet Patterns
For those on a budget, free patterns are a great option for easy crochet gift ideas. You can find a wide variety of free patterns here for every skill level, which can be used to create handmade gifts for that special occasions like birthdays, holidays, Mother's/Father's Day, and more.
If you're looking for a fun and unique way to surprise your friend or loved one, why not take them to your local crafts market? Not only is it a great way to spend an afternoon, but it's also a chance to show them some of the amazing talent and creativity that exists in your community.
As you explore the market, you might even find the perfect gift for them. Whether it's a piece of hand-dyed yarn, a crochet tote, or a one-of-a-kind crochet hook, they will surely appreciate the thought and effort you put into finding something special.
$ Stocking Stuffers
If you're looking for a variety of items that make great stocking stuffers,  here are some great options that won't break the bank.
Gift Card 
One of the easiest and most versatile gift options for any crocheter is a gift card. This allows the recipient to purchase whatever they need or want at their local yarn shop or online, without having to worry about affording it.
Gift cards can be used to purchase books, yarns, crochet hooks, and other essential crochet supplies from their favorite craft store. Plus, it's an excellent option if you're not exactly sure what they really like.
Stitch Markers 
Stitch markers are a must-have for any crocheter. They are small rings or clips that are placed on the stitches to mark the beginning and end of a pattern repeat or a stitch pattern.
They are invaluable when working on complex patterns or repeating sections, as they help to keep track of the number of stitch counts in the pattern.
Stitch markers come in a variety of styles and colors, and they can be made from different materials such as resin, polymer clay, or metal.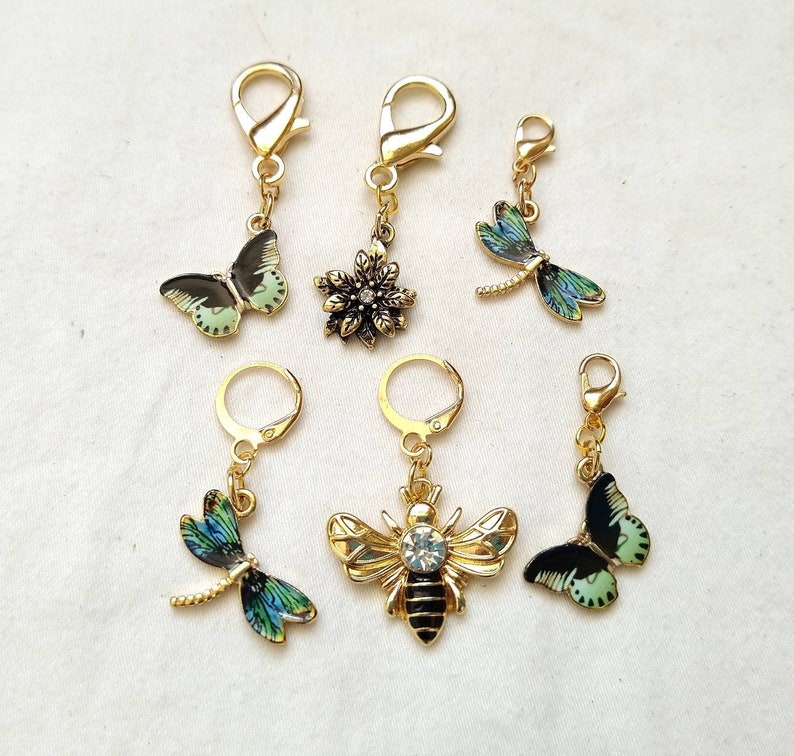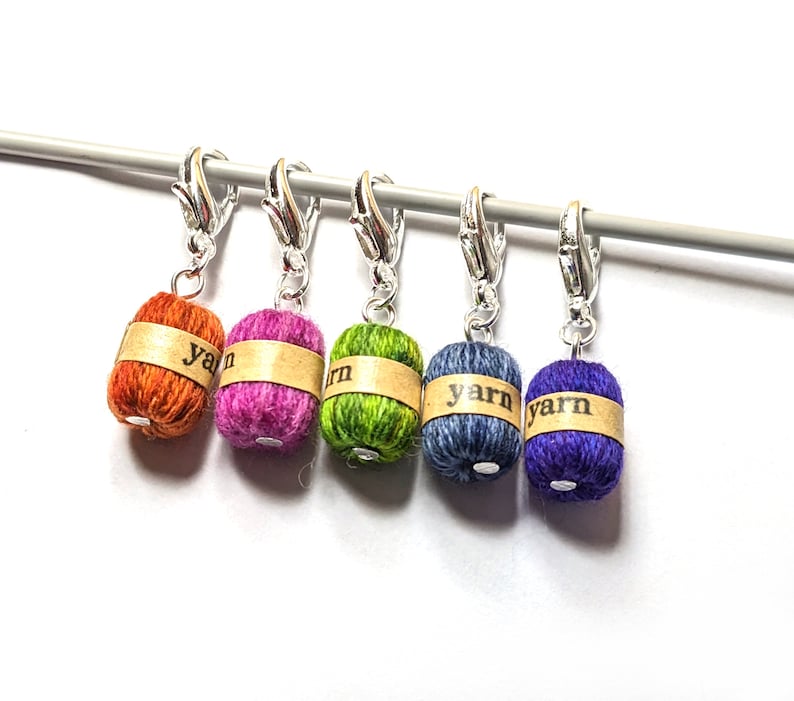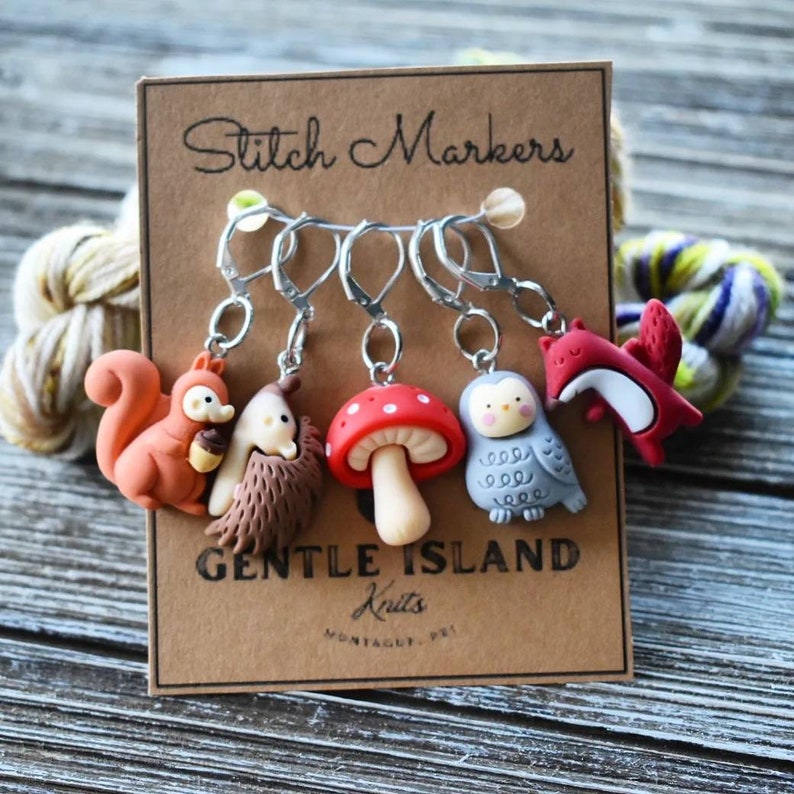 Cutters
Yarn Cutter Pendant – A yarn cutter pendant is a handy tool and a great addition to scissors that allow crocheters to quickly and easily cut their yarn without having to search for a pair of scissors.
These pendants are also a great addition to scissors when carrying them on the plane.  You can read more about bringing your crochet hook and scissors on the plane here.
It can also be worn around the neck, making them easily accessible while working on a crochet project. 
2. Fancy Sewing Scissors – Fancy sewing scissors are a great gift option for crocheters who would like an upgrade to their accessories. These scissors come in a variety of styles and designs, and they can add a touch of elegance and sophistication to any crafting project.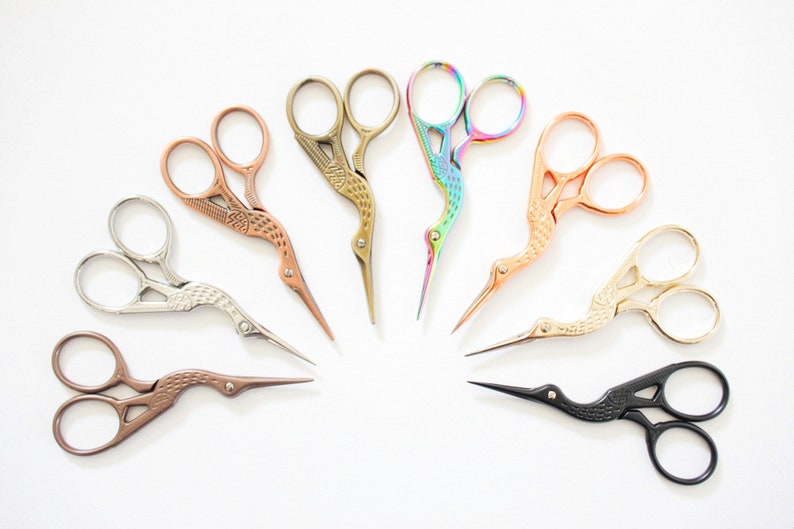 Pom poms are a fun and decorative addition to many crochet projects, such as hats, garlands, and blankets. A pom pom maker is a simple yet useful tool that allows crocheters to create perfectly round and fluffy pom poms with ease.
Pom pom makers come in many different sizes and styles, and they can be found at most craft stores and online retailers.
Check out my tutorial on how to use the pom pom maker
A stitch counter is a good option to have that allows crocheters to keep track of the number of stitches in their project, making it easier to follow patterns and stay on track.
Stitch counters come in a variety of styles, such as digital or manual, and they can be easily attached to a crochet project or worn around the neck or finger for easy access. Stitch counters are a practical and affordable gift option for crocheters of all skill levels.
$$ Make a Statement Gift Ideas
If you're looking for something a little bit more personal or unique, these are great options they would truly adore.
Crochet books are an excellent resource for both new and experienced crocheters. Whether they're looking to learn new techniques, create a specific project, or simply gain inspiration, crochet books provide a wealth of knowledge and expertise.
When shopping for crochet gifts, it is also a great idea to support the handmade community and consider purchasing from local artists and small businesses. 
A yarn bowl is a perfect gift idea for any crocheter. These bowls are designed to keep the yarn from rolling around while the crocheter is working, making it easier to keep the yarn untangled and free from knots.
Yarn bowls come in many different styles, materials, and sizes, so you can find one that fits your crocheter's personality and preferences with designs that make them both functional and decorative.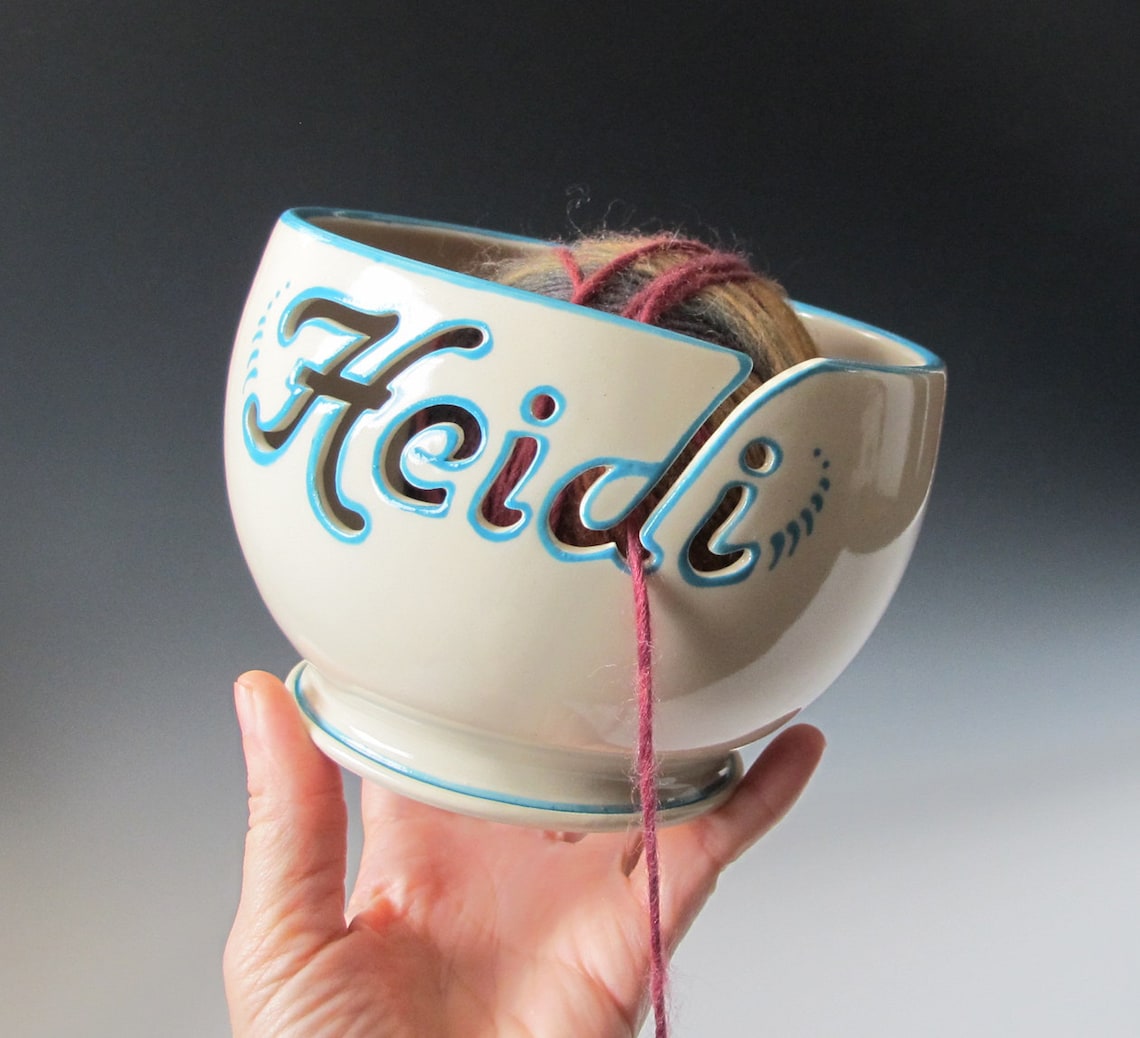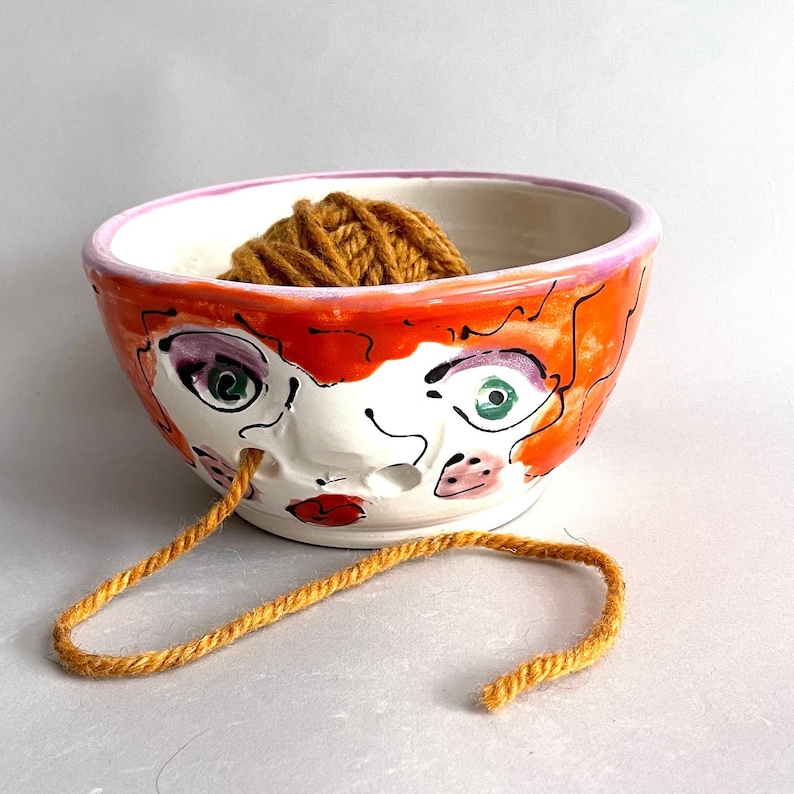 Crochet kits are practical gift ideas for anyone who is just starting out with crocheting or for someone who is looking for a fun project to work on. These kits typically include all of the materials needed to complete a specific project, such as yarn, hooks, patterns, and instructions. Crochet kits can be found in various themes and difficulty levels, ranging from beginner-level to advanced patterns.
Crochet Themed Gift Ideas
If you're looking for crochet-themed gift ideas beyond the basics of yarn and hooks, there are plenty of options to choose from. Here are some ideas to get you started:
Crochet Mugs: A cute and funny crochet-themed mug is a great gift idea for any crochet lover. You can find mugs with sayings like "I crochet so I don't unravel" or "Crochet is my therapy." You could even fill the mug with some small crochet supplies like stitch markers or a crochet hook.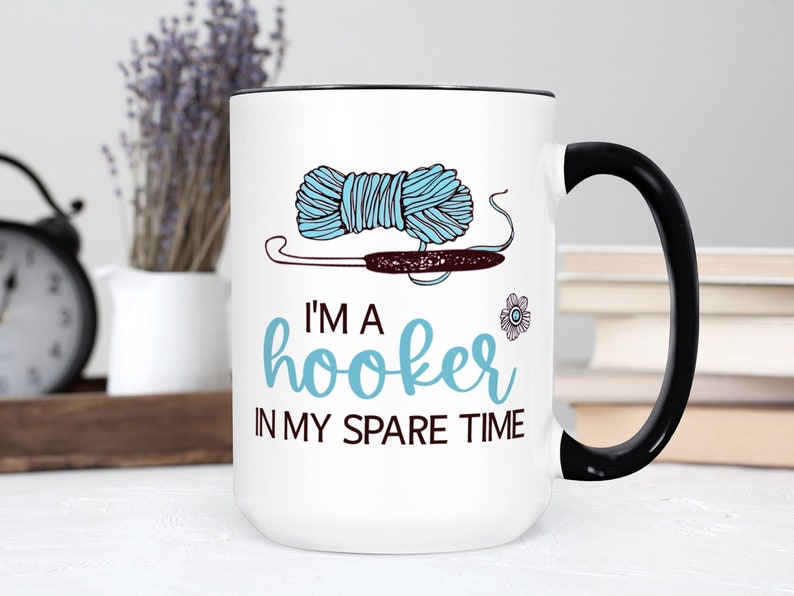 2. Crochet T-Shirts: A fun and comfortable crochet-themed t-shirt is a great way for your favorite crocheter to show off their love of the craft. You can find shirts with slogans like "Crochet all day, every day" or "I'm hooked on crochet."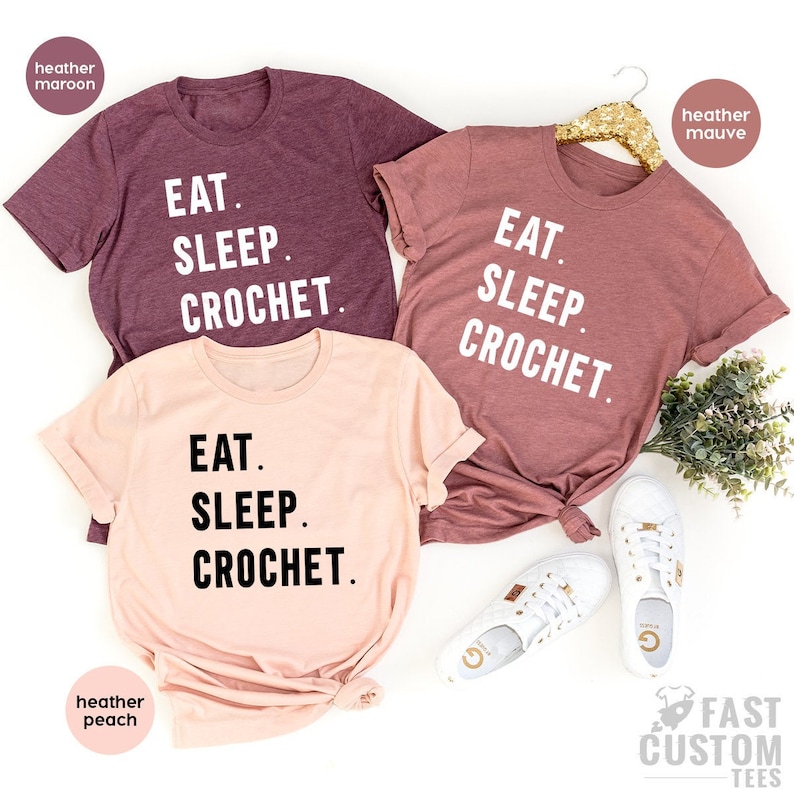 3. Crochet-themed Jewelry: Jewelry with crochet themes like tiny crochet hook charms or yarn ball pendants make great gifts for the stylish crochet enthusiast. You can even find custom-made pieces with their favorite color yarn or hook size.
And speaking of jewelry, check out the tension ring below that is both jewelry and accessory!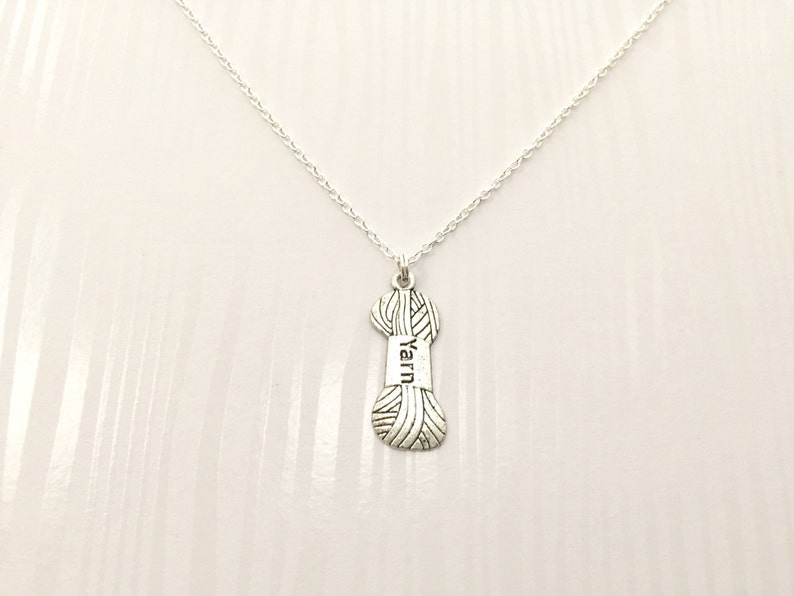 4. Crochet-themed Home Decor: Crochet-themed home decors like throw pillows or wall art is a great way for your favorite crocheter to show off their love of the craft in their living space. Look for pieces that incorporate crochet hooks, yarn balls, or crochet stitches.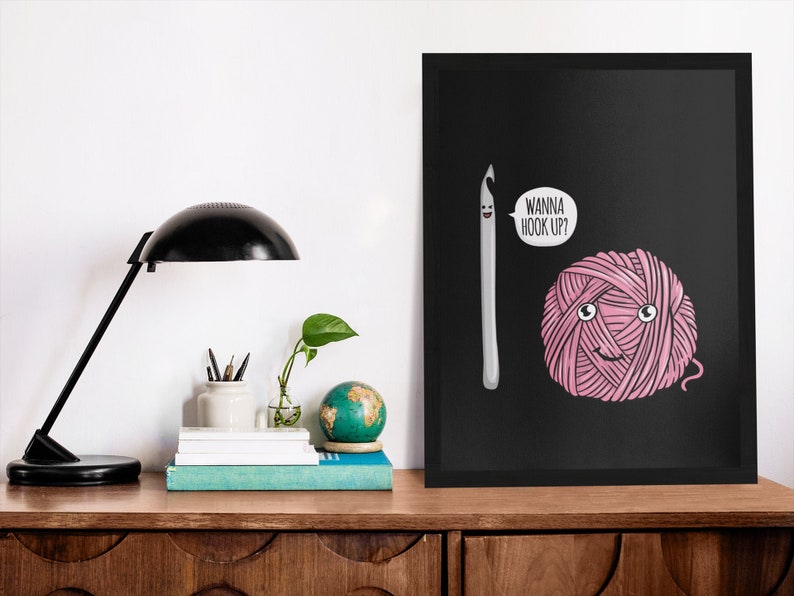 Crochet rings are small, lightweight tools that can be worn on your finger to help control the tension of your stitch while crocheting. These rings are not a joined circle instead, they are usually coiled in a round and have a divot to hold your yarn in place.  Crochet rings come in a variety of sizes and materials, such as plastic or metal, and they are a great gift for any yarn lover with arthritis or to reduce hand fatigue and strain while crocheting.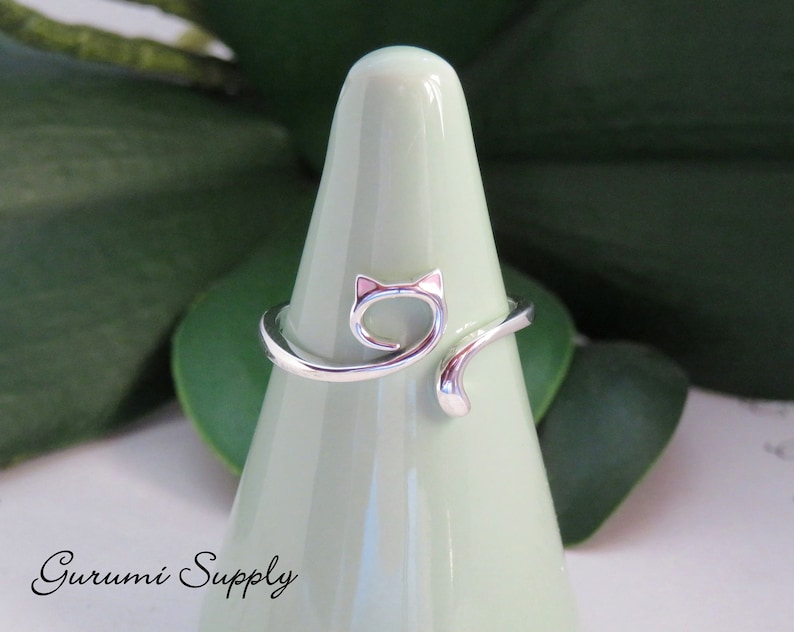 Crochet Hooks
Clover Amour Crochet Hooks – Clover Amour crochet hooks are a popular choice among crocheters for their comfortable grip and smooth hook. These hooks are designed to reduce hand fatigue and strain while crocheting, and they are available in a variety of sizes and colors.
Clover Amour hooks are made from high-quality materials and are durable enough to last for many crocheting projects. It also comes in individual colors, an easy way to distinguish one size from another.
2. Furls Ergonomic Crochet Hooks – If your crocheter spends a lot of time working with their hooks, they might benefit from using ergonomic crochet hooks. These hooks are practical gifts designed to reduce strain and fatigue on the hands and wrists, making it easier and more comfortable to crochet for longer periods of time.
Ergonomic crochet hooks can be found in many different materials, such as bamboo, plastic, or metal, and they come in various sizes and styles to suit different crochet projects and would be a good addition to their collection.
3. Resin Crochet Hooks – Resin crochet hooks are a beautiful and unique option for crocheters who want to add a bit of personality and style to their crafting tools. These hooks are made from a combination of resin and other materials, and they can be customized with different colors, patterns, and designs.
Resin crochet hooks are also lightweight and ergonomic, making them a comfortable and practical choice for long crocheting sessions.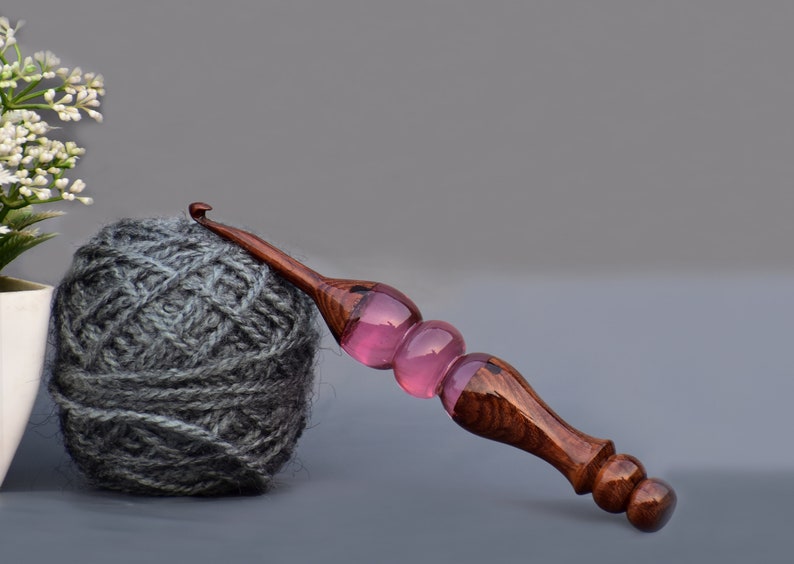 If you would like to receive free written patterns and video tutorials straight into your inbox, just click Subscribe to get into our mailing list.
$$$ I Like You A lot Gift Ideas
A project bag is a must-have for any avid crocheter who likes to take their projects on the go. These bags are designed to hold yarn, hooks, and patterns, and they often feature multiple compartments for easy organization.
Project bags come in a variety of sizes and styles, from small pouches to large totes, and they can be made from many different materials, such as canvas, nylon, or leather. This would be a great gift idea if they are yet to have one.
Similar to a yarn winder, a yarn ball winder is a tool that helps to wind the yarn into neat, tidy balls. However, a yarn ball winder is designed to create center-pull balls of yarn, which are easier to work with and less likely to tangle than traditional yarn balls.
Yarn ball winders come in many different styles and sizes, and they can be found at most craft stores and online retailers like Etsy & Amazon.
Lighting 💡
Hands-Free Night Light – Hands-free night light can be a useful tool for crocheting, especially if you like to crochet in low-light conditions.
It makes crocheting easier and more enjoyable by providing adequate lighting, freeing up your hands, and improving your accuracy. This gift is inexpensive and really worthwhile.
2. Crochet Overhead Lamp –  Crochet overhead lamps are a great way to provide bright, clear lighting for crocheting projects, especially when working in low-light conditions. These lamps can be easily adjusted to provide the perfect level of lighting, and they are designed to reduce eye strain and fatigue while crocheting for long periods of time.
Crochet overhead lamps come in a variety of sizes and styles, and they can be found at most home goods or online.
***
There are many fantastic gift options available for crocheters that can help enhance their crafting experience. Consider the crocheter's interests, skill level, and preferences when selecting a gift, and you're sure to find something that they'll appreciate and enjoy for years to come.
And If you're still not sure what to get, consider asking your favorite crocheter for their own wish list.
If you're a crocheter yourself, don't be afraid to add some items to your own wish list – there's never been a better time to self-pamper yourself with wonderful crochet gifts.
With so many wonderful crochet gifts to choose from, there's no excuse not to find the perfect gift for your favorite crocheter this holiday season.
There you have it. I hope this was as insightful to you as it was for me curating it.
If you would like to see more video tutorials like this you can check them out here on the blog or Subscribe to my Video Channel on YouTube.
And if you have any other great crochet/ knitting essentials, please feel free to mention them in the comment box below.
Happy hooking,
Shaz 🧶
---
Don't forget to follow me on social:
Instagram | Pinterest | Facebook | Twitter | YouTube
Subscribe and get all the new patterns and updates in your inbox